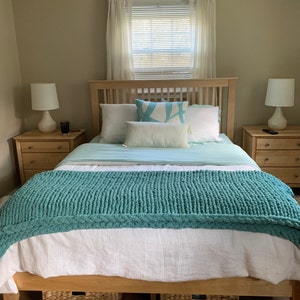 Kathleen...5 stars!! Seafoam Cozy. This throw is beautifully made. Love everything about it. It brings personality to the room.
Tommiethemom...5 Stars!!
Skylight Cozy. I cannot say enough positive! I had gotten my daughter-in-law a blanket from here for Christmas. Well, my son kept taking it over....soooo...I got him one for Easter! They both laughed and love the blankets! The quality is outstanding. The service is above exceptional!
Jennifer...5 stars!! 
Custom Cozy. LOVE this blanket! It's for my daughter but now I want one too. Thank you so much. Shipping was so fast. I was surprised when it came in the mail. 😊
Tmyers...5 stars!!  Seamist Cozy.  
This might be the most beautiful throw I have ever seen. Each year my son has asked the Easter Bunny for a new blue blanky. He asked for one again recently (he is now 13 yo) and boy is he going to love this one....will likely follow him to college! ;)
The seller ships fast and is very responsive....beyond talented!!!!
Tstump...5 stars!! Stone Cozy. 
My mom absolutely loves this throw! She was delighted to receive it and said, "It's beautiful! It's warm and very soft." It's clear that Jolie puts a lot of time and love into her high-quality products. Jolie is thoughtful, accommodating and a true pleasure to work with. I will definitely purchase more of her products!
Charles...5 stars!! Meadow Cozy 
Loved It and made it in time for Christmas!! Thanks
Irene...5 stars!! Moonchild Cozy 
Just Amazing!!! The softness, texture, quality of these throws are incredible! Hand made item! Is a plus!!! Great job!!!
Jlnsanders...5 stars!! Custom Cozy
Soft and beautiful blanket. Arrived quickly.
Jolie was so accommodating and she does beautiful work. I ordered two of these throws and she had them done and delivered to me in a week.
Beth...5 stars!! Sky Cozy
It's a bit bewitched. Somehow, when I snuggle with it, I immediately doze off. . . . Beautifully made and looks gorgeous on my sofa - warms the room up. Thanks for your superior craftsmanship!